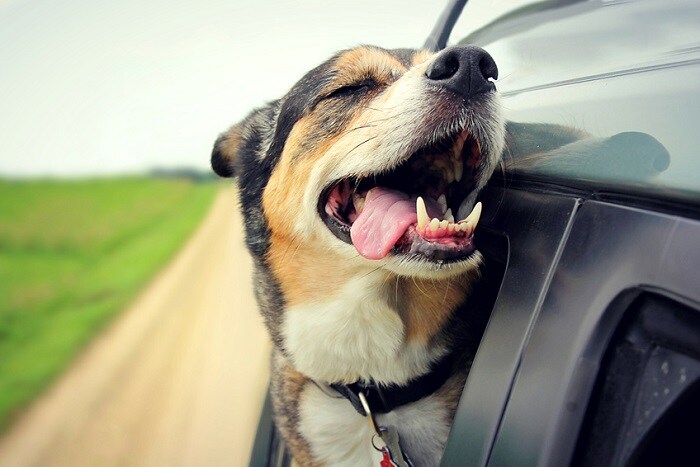 It's important to have a car that can do it all, and that means fitting everyone. For many, "everyone" is a tall order, especially when it includes our pets. Luckily, we've got just the right car to fit everyone, including your furry friends: the aptly named 2018 Honda Fit.
Here's a snippet from the Edmunds 2018 Honda Fit review: "It's been a favorite of ours since day one, thanks to its impressive roominess, standout utility and frugal fuel economy. For 2018, the [Honda] Fit receives a host of improvements that make it an even more appealing choice."
Open the rear hatch, and you're greeted by a spacious interior that provides dozens of configurations. With the 2nd-row Magic Seat® folded down, your Honda Fit is in Utility Mode, providing an incredible 52.7 cubic feet of cargo space to work with. What's even better? The low load floor is the perfect height for your furry friends to hop right up and in. Long Mode takes advantage of the full length of the vehicle by folding down the passenger-side seats, allowing you to fit everything you need to cross that home improvement project off your list, from ladders to 2x4s. Taking off the headrests and folding up the back seats activates Tall Mode, which puts four feet of vertical space at your disposal. We challenge you to find a hatchback more perfect for your pet.
So let's review: You've gone to the dog park, built something to make your home better, and finally picked up that cool piece of furniture from your friend that was too tall for anyone else's car. You deserve a rest. The 2018 Honda Fit has got you covered there as well with an all-new Refresh Mode. Fold the front seats back, recline the rear seats, and stretch out for a well-earned nap.
We haven't even talked about one of our favorite updates to the 2018 Honda Fit—the new Sport trim. Head into Hall Honda Elizabeth City near Kill Devil Hills, NC today to test drive the all-new 2018 Honda Fit Sport and cut loose behind the wheel of this pet-friendly hauler.